CMSRU Appoints New Associate Dean and Associate Dean for Higher Medical Education | Rowan today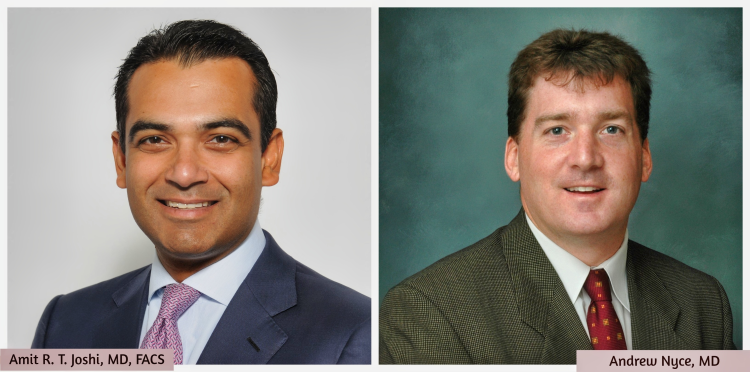 CAMDEN, New Jersey – Annette C. Reboli, MD, Dean of Cooper Medical School at Rowan University, today announced the appointments of Amit RT Joshi, MD, FACS, as associate dean for higher medical education (GME) and Andrew Nyce, MD, as Deputy Dean of GME.
"As GME at CMSRU / Cooper University Health Care (CUHC) continues to develop and evolve, we have prioritized the hiring of new leaders to oversee our 46 residency and scholarship programs, and the nearly 400 interns who are enrolled in them, "explained Dean Reboli. "We are very happy to have Drs. Joshi and Nyce as our first associate and assistant vice-deans, respectively, for GME. They bring with them administrative, operational and organizational leadership that I believe will help take our graduate medical program to the next level of excellence.
Dr Joshi joins the CMSRU from the Einstein Healthcare Network in Philadelphia, where he was director of the residency program and vice president of academic affairs for the department of surgery. As the first CMSRU / CUHC Associate Dean for GME, he aims to position institutional graduate medical programs as regional and national destinations for training.
"CMSRU / Cooper has an exceptional faculty with in-depth experience, excellent program infrastructure, and a drive to be among the top destinations in the country for residency and scholarship training programs," said Dr Joshi. "I look forward to working with the faculty, as well as with outstanding leaders from the hospital and medical school, to continue to develop opportunities across the educational continuum and have a positive impact on the health of the community. "
An accomplished general surgeon who specializes in the repair of minimally invasive hernias, Dr. Joshi holds leadership positions in many professional organizations, including the American Board of Surgery; the Association of Program Directors in Surgery; and the American College of Surgeons (ACS), where he is the past president of the Philadelphia chapter. He recently co-chaired the planning committee of the Coalition for Physician Accountability, a multi-organizational group that works to advance healthcare and promote professional accountability by improving the quality, effectiveness and continuity of education. , training and evaluation of physicians. Coalition members are the national organizations responsible for the monitoring, training and evaluation of medical students and physicians throughout their medical careers. Dr Joshi graduated from Warren Alpert Medical School at Brown University and completed his general surgery residency at New York-Presbyterian Hospital. He is currently editor-in-chief of SCORE, the national program for general surgery.
Dr Nyce is Associate Professor of Emergency Medicine and Vice-Chairman and Vice-Chairman of the Department of Emergency Medicine at CMSRU / CUHC. He completed his residency in emergency medicine at Robert Wood Johnson Medical School / CUHC, as chief resident, and joined Cooper's clinical staff as a teaching physician in the department of emergency medicine in 1999.
Dr Nyce is highly regarded by medical students and residents alike for his excellence in teaching and exceptional clinical skills. He was director of the emergency medicine program for 11 years. Dr Nyce has chaired several internal working committees dedicated to improving access to healthcare, patient care and CMG at Cooper. He is a member of the Society of Academic Medicine and the Council of Residency Directors, Emergency Medicine, serving on several committees for both organizations.
A partnership between Rowan University and The Cooper Health System, Cooper Medical School of Rowan University (CMSRU) opened in the summer of 2012 in Camden. It was New Jersey's first new medical school in more than 35 years and the only four-year medical school with a medical degree in southern New Jersey. Today, nearly 450 medical students are enrolled at CMSRU.
# # #